Secure Payment Processing
Your order and Payment processing
When you place an order with us at Desi Sarees, you are making an offer to buy goods or services. An order is placed on our website via adding a product to the shopping cart and proceeding through our checkout process. The checkout process includes giving us delivery and any other relevant details for your order eg. entering payment information and submitting your order. The final step consists of a confirmation page with full details of your order, which you are able to print as a receipt of your order.
PayPal
We use the trusted leader in online payments for processing your payments. PayPal, the trusted leader in online payments, enables buyers and businesses to send and receive money online. PayPal has over 100 million member accounts in 190 countries and regions. It's accepted by merchants everywhere, both on and off eBay.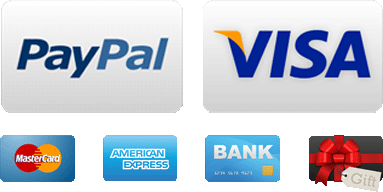 Is it safe to use?
PayPal helps protect your credit card information with industry-leading security and fraud prevention systems. When you use PayPal, your financial information is never shared with the merchant.
Why use PayPal?
Make purchases or send money with PayPal - it's free Shop and pay conveniently by saving your information with PayPal PayPal is accepted by millions of businesses worldwide and is the preferred payment method on eBay